This thread was created for the purpose of introducing all the key concepts and documentation for the completed Wavecor Ardent without having to roam through the journal of the original Wavecor Ardent Thread. A little bit of the history of the Ardent project will be included in the introduction, but mainly this is intended to be the place to come if you want the details, including wood construction and crossover build variants. If, after reviewing this information, you have further construction related questions, bring them to this thread.
Design:
Wavecor Ardent floor standing three way
This is the "concept" crossover, just the actual desired values, which can be used to generate your own personalized BOM, should you wish to use different crossover components.
Price:
About $2900 for drivers, crossovers as built vary between about $1200 and $1500; cabinet materials including LBL panels for front panel about $400-500 in materials.
Size:
* Basic dimensions are 42-43" tall (depending on base design, whether tall base is used with crossover installed in bottom), 11" wide, and about 16" deep at any one point, remembering that the total front to back depth from floor to top is greater because of the angle.*
Tweeter:
ScanSpeak D3004/6640-00 Beryllium dome tweeter - other SS models (6620, 6600) were evaluated and discarded. The 6640 has low resonance and low distortion amplification, and a minimal breakup, matching the Accuton midrange driver in it's overall low coloration and very low high order distortion.
Midrange:
* Accuton C90-9-079, matched pair. Core concept for this speaker was the use of this midrange driver- due to low resonance, low distortion, and extended response, no other type considered.
Woofer:
* Wavecor SW223BD01 - 4 ohm, wired in series. A number of woofers were considered and tested in prototypes during the evolution of this design, including the Seas ER18RNX and the ScanSpeak Illuminator 18WU/8747T-00; and the 8" aluminum ScanSpeak Revlator; the desired low frequency performance required shifting to a sealed design and searching highly linear small form factor woofers, which like the Aurasound NS12, straddle the line between a subwoofer and woofer construction, offering a very stiff cone, exceptionally linear motor, and declining distortion up to 1 kHz; this supported creating a sealed alignment with a robust well damped bottom end similar to the much larger Isiris system, but of necessity at a lower sensitivity point (approximately 82 dB, similar to Magneplanars).
Designers/team:
* Jon Marsh with DAR47 and Benthe8track
Other Design Notes:
*Crossover is similar to the Isiris, being a three way implementation of a modified LR3 concept designed to work specifically with the normal driver offset delays of drivers mounted on a common front panel. Woofers are connected in series, to provide an easy to drive amplifier load. The provided schematic below looks "busy" because all the individual parts used to achieve a specific value are drawn out explicitly; in this case, for my personal build. (Updated June 20 to correct value of C6D, changed from 47uF to 56uF)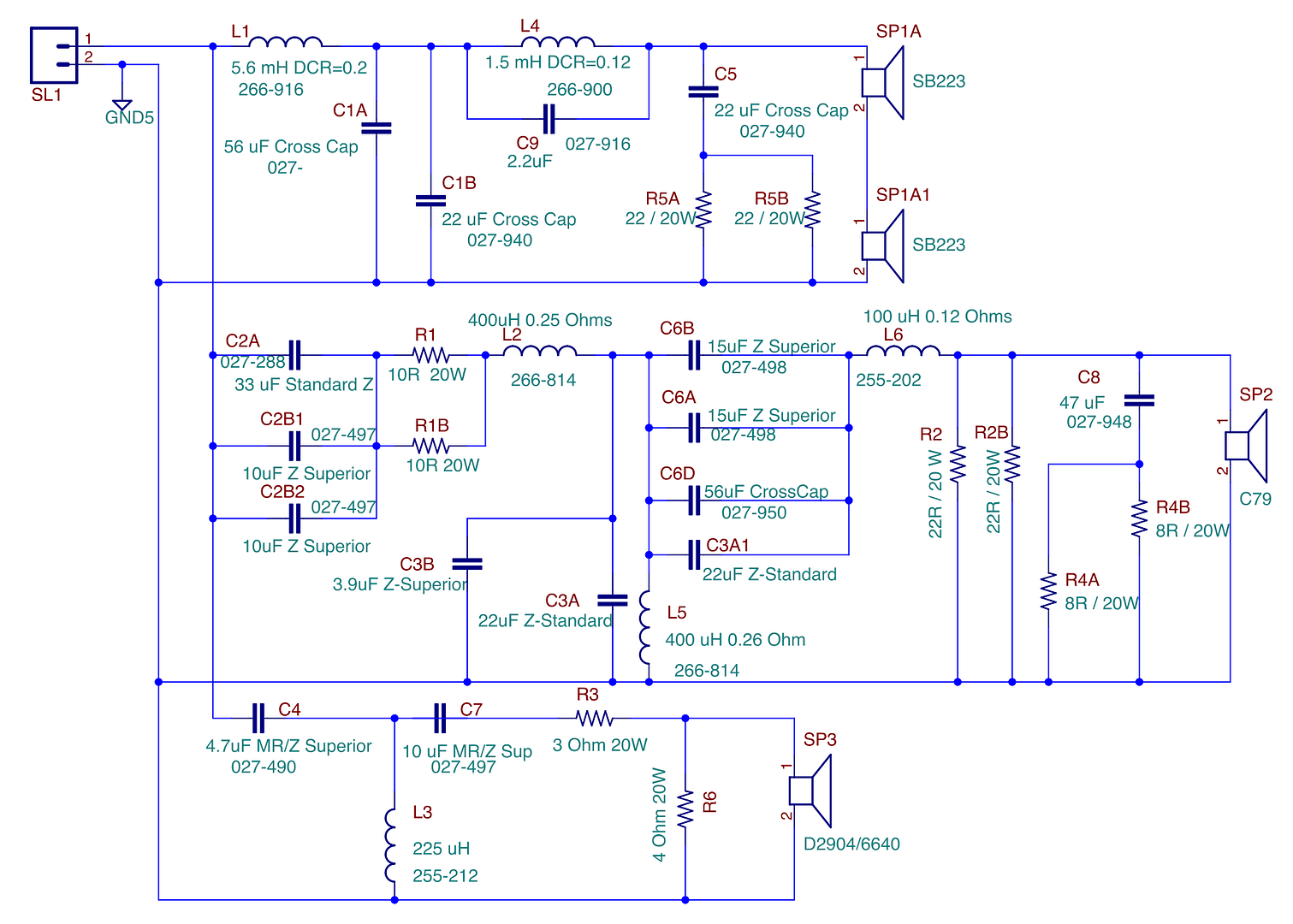 The net load impedance is very benign and quite flat, especially considering no external conjugate networks are used to reduce impedance in the crossover regions; this is an inherent characteristic of all realizations to date of this crossover type, which may improve driver damping and limits impedance swings for amplifiers to deal with, especially vacuum tube and non-feedback types like Ayre Acoustics or Theta.
Felt diffraction control is used in the grille panel, in conjunction with the crossover optimization to produce a wide vertical window with relatively small changes in response and minimizing diffraction effects to the degree possible. This measurement was not made with any attempt to optimize the low frequency positioning in the room (it was not in a normal listening position) and so response variations around 100Hz and below are due to non optimal setup and the long measurement window (200 msec).
Distortion was correlated from one of the frequency response sweeps, at a level of about 90 dB. All drivers exhibit good performance, but especially the midrange.
Related Designs:
* Isiris three way using Aurasound woofers, Accuton C173-6-90 midrange, and Jantzen JDT-1024 diamond tweeter; NatalieP, Modula MT; all using the same modified LR3 crossover concept.