I've been working on a loudspeaker for some time - few months actually because of lack of spare time. Things are near completion. I can not yet disclose all the details (drivers used and crossover schematic) because there is a possibility it becomes a commercially available product. Initial assessment is that end price will be around 850 euros/pair. If endeavors to become a commercial product fail i'll post all the technical details and drawings here. If this violates any of the forum rules (i'm aware it could be looked at as advertisement attempt) feel free to throw tomatoes at me and delete the thread, but i'm genuinely so excited about the performance and the concept of this volkslautsprecher that i couldn't keep my mouth shut.
So, that out of the way... It's a standmount three way, high performance and extremely high value loudspeaker - made in Europe. Not too many of those floatin' around i guess. One of my beliefs is that principles known for 50 years shouldn't cost as much as it is usually charged. So, although it is relatively low priced, it incorporates much of what i know and strive to. Only thing i didn't use are Kef's port technology for reducing port resonance - patent protected. It should be low diffraction but without roundovers - rather bevels (thanks to Jon Marsh and late Charles Hansen), flat frequency response, wide directivity were the main goals. Beside that it had to be compact with F3 around 40Hz-45Hz suited to smaller rooms - 30sqm maximum recommended. Also, for small rooms people tend to buy two ways because everyone offers almost exclusively that. Large manufacturers don't want to bother with standmount threeways - crossover and additional driver plus development process cost almost double in regard to two way and in that sense profit is much lower. Well, i thought - why does the profit has to be 400%-800% as usually is. Not making a living out of it delivers you from that kind of traps. There are lots of kits available (Statements monitor for example) but not everyone can or knows how to do it. Large chunk of money paid for these speakers actually goes on drivers, crossover parts, woodwork and assembly (19mm mdf, elco bipolar only for bass, air coils and foil caps for tweeter and mid). Design costs almost nothing since i'd be doing this anyway, just for the fun of it.
Few pics are in order. Yours truly with help of very skilled photographer - as all high end manufacturers do but the budget for that was a bit tight: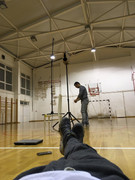 #photo of anechoic chamber with this loudspeaker and fancy measuring equipment
#photo of some fine lookin' lady in minimalist living room with speakers painted like couch and one of the walls
#photo of a famous musician in clinch with his loving instrument and these speakers behind him
#photo of nervous mixing engineer using that last bit of accuracy out of this speakers for his mix
Now that less important bit, measurements. 1 meter distance, gated, 1dB gridline
0, 10 and 20 deg off axis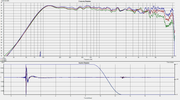 30, 40 and 50 deg off axis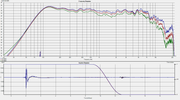 60, 70 and 80 deg off axis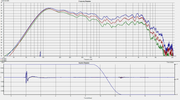 0 and 90 degrees off axis - 5dB gridline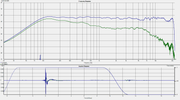 And no, the "professional photographer" didn't get up until we finished everything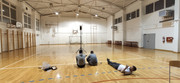 Those were made two nights ago - around 01:30am. There was much yawning and four coffee's tomorrow but it was fun doing it and we were very pleased with results.
More measurements to come - distortion (still waiting for some crossover parts), waterfall etc.