By request, this one's for Jagman.
Fronts (the Ansonica)
Max total height, 36"
Use the new
Exodus Anarchy
, to be a 2.5way TMM.
Surrounds (the Marsala):
Use what I learned on my own surrounds
Selected tweeter:
SB-Acoustics SB29RDC-C000-4
Though I don't know for sure how the Anarchy does as a midrange, we'll find out. I'm going to leave the baffle on my test box loose so I can swap it out for a different tweeter + midrange if I find I really don't like the midrange on the Anarchy. We'll see.
Some quick modeling suggests a box 8.5x15x34 with a 1.5" baffle and a port tuned to ~25Hz will work quite nicely (you can tune lower the less series impedance is in front of the woofers so we'll have to see where the crossover ends up). Going to slant this one. I think chamfers, and I'm pondering whether to go with the latest fad in the "Avalon" style...
More info here as things progress, as usual.
Box design and info:
2.5" diameter port should be ~12-13 inches long.
3" diameter port should be ~18" long
1x7.5" slot port should be ~18.5" long (equivalent to ~3.1" diameter)
Series Crossover:
Note: C5 should be 10uF not 12. I'll update the pic soon as I get the chance.
BOM:
Capacitors
25uF
16uF
14uF
10uF
4uF
(optional) 47uF
Inductors
1.2mH 14ga (.24ohm)
.39mH 14ga (.12ohm)
2.7mH 16ga (.60ohm)
.91mH 18ga (.40ohm)
.33mH 18ga (.26ohm)
(optional) .5mH 20ga
Resistors
8ohm
4ohm
2.5ohm
(optional 5ohm)
------------------------------------
Parallel Crossover:
BOM:
Capacitors
15uF
14uF
12uF
10uF
4.5uF
(optional) 47uF
Inductors
1.2mH 14ga (.24ohm)
3.6mH 16ga (.70ohm)
.3mH 16ga (.16ohm)
.36mH 18ga (.27ohm)
(optional) .5mH 20ga
Resistors
8ohm
4ohm
2.5ohm
(optional additional 8ohm)
Response:
Black is the series summed response, yellow is the parallel summed response.
Red/blue/pink are series individual driver response(s).
The dip at 3k is diffraction induced. This is measured without the chamfer, so that should get better.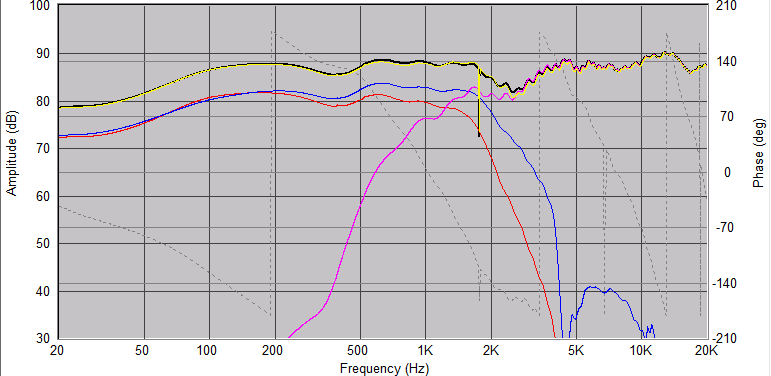 This is with a LRC to flatten impedance, otherwise it peaks up to about 12ohm in the 1200Hz-ish range, phase gets up to ~+20deg and -30deg at 400Hz and 2200Hz respectively. So rather benign either way. Solidly above 4ohm all the way.