Okay. Well, I considered changing out some of my choices, but in the end, when the case showed up, I got antsy, and just decided to put the thing together as I ordered. It was pretty cool. Glad I decided to do it. (so far, at least)
A few quirks here and there, but by and large, the case came together fine. With a few exceptions, it's a super nice case. Just took me longer than I thought, which I'll chaulk up to being my first time. Didn't bend anything, as far as I know.
Got it all assembled, hooked it up to my office setup, turned it on fine... no display. Crap. Being my first build, I didn't know what to expect, if I had to start by playing with the BIOS before OS installation, or video drivers, etc. Tried several different plugs to the monitor (DVI, HDMI, VGA) and got a flicker with VGA, but overall no display. Turns out I'm pretty sure my old monitor is dead. It's just out of warranty, so now I've got to figure whether to fix or buy a whole new one. So the bummer is, I've got a great new brand new computer, and limping along with an ancient backup monitor.
So I got it working via VGA with an old 1997-era monitor. It hung up the first two times I tried to install Windows 7, (Pro edition) but then completed fine. I can't find the 100MB partition it said it made the first time, so hopefully that got erased.
I'm trying it out first, before I do the cable management to clean it up, and then put the side and top panels back on. Here's some in-work pics to whet the appetite before the final product:
All the goodies ready come out of the package and play: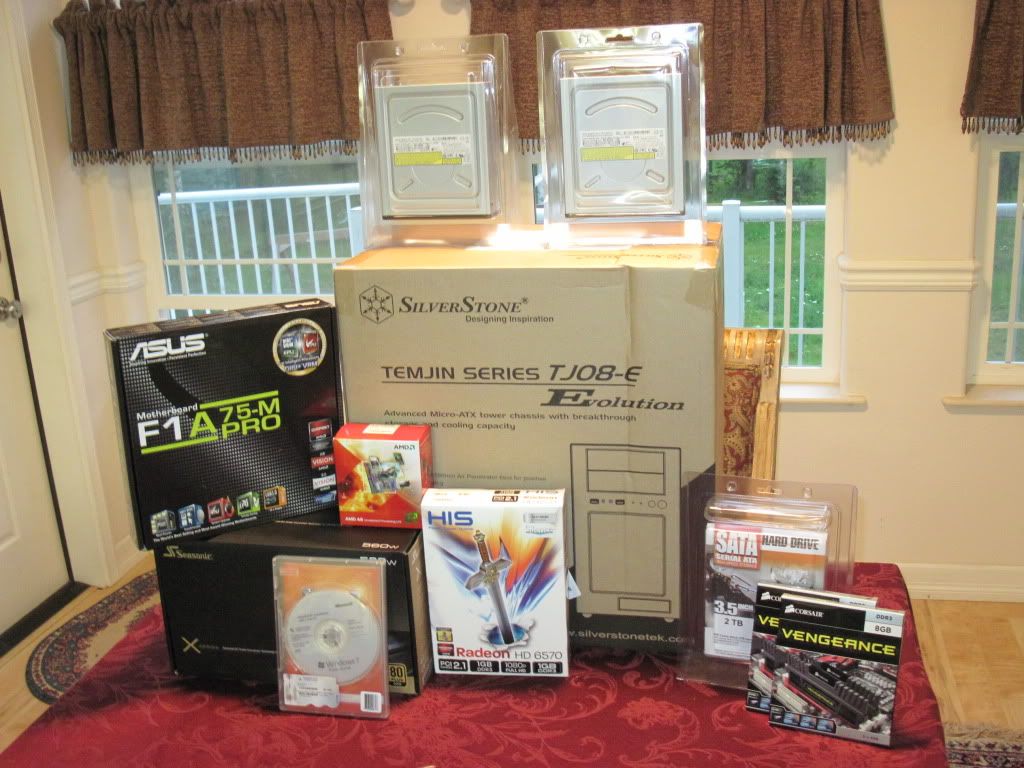 Case with side and top panels removed, showing PSU installed in the dedicated top compartment for PSU and optical drives. Silverstone recommends that PSU's with fans 120mm or larger be installed with fan facing down.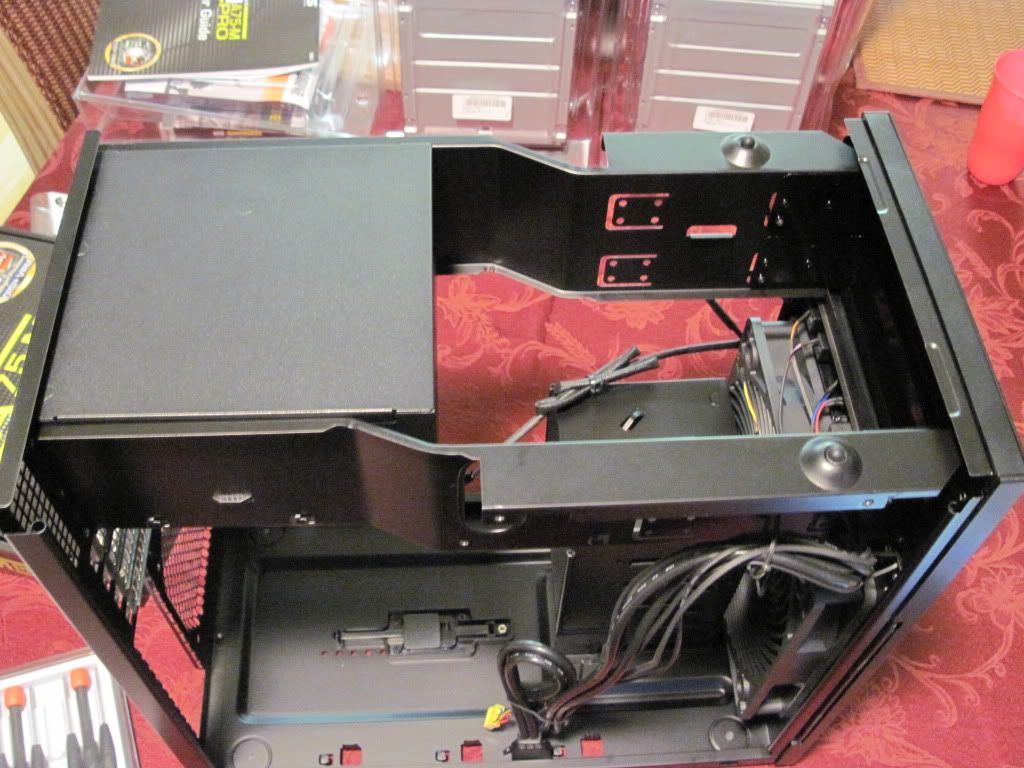 From the right rear towards the front, showing the massive 180mm front case fan.
Motherboard all assembled on the mobo tray, with processor, CPU fan, 4 sticks of memory, and extra graphics card. Ready to go into case.
This PSU was packaged up pretty nice. Velvet bag for the PSU. Nice fancy pouches for the included cables.